June 19, 2012
Kerala celebrates 'Reading Day' today as part of the Reading Week. It is dedicated to the memory of P.N. Panicker, the man behind Kerala's proud and illustrious 'Granthashala/Vayanashala' (library) movement that covered 5000 villages.
'Read and grow, think and become wise' was the slogan Mr. Panicker gave the Malayalee community. His self-less work in its first half was fundamentally responsible for the ease with which Kerala could attain total literacy before the 20th century ended.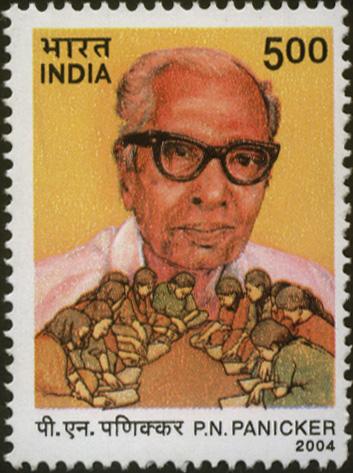 Mathrubhumi's Vidya supplement has run some articles on the reading habit. They mention Charles Dickens and Faraday, two poor boys who became successful simply because they loved to read whatever they could find. Faraday worked at a book binders and it was the articles on electricity that he found in the Encyclopedia that he was assigned to bind that changed the world as we know it.
A huge cut out of an open book has been erected at Kanakunnu Palace entrance to celebrate the week. Couple of book fairs are going on in the city.But the name 'Reading Day' takes me back to Texas A&M. The one day break before the final semester exam was named the same. It was a day the campus would have a deserted look and the library would be packed.
It was also the day mostly when the final year aerospace vehicle design course went out to the riverside campus to fly their r/c model airplanes. A great day of celebration for the whole families who would gather by the runway sandwiched between the horse farms maintained by the veterinary school.
The sputtering little gas engines always made the horses curious. The more silent electric engines that were used in later years didn't grab their attention. But the obligatory ass that is always kept with a horse herd was keen on those engines.
It was Mr. Lund who explained to me the concept of the ass on one of the occasions that we were out in the field putting up fences as the prep work for the flights. "Horses get spooked very easily. And they thunder around the field, the entire herd, at the slightest bother. The donkey is the massive pacifier. It doesn't react to pretty much anything. Its dumb stance calms the horses down!"
This 'Reading Day' I am acutely aware that I had been spending time with books in the last 3 weeks. Malayattoor classic "Verukal", comparable to but not as extensive as Hailey's Roots has been on my bedside for a while now.
But I take solace in the fact that my time is being spent at least partly towards establishing a state-of-the-art library. I guess the trees can wait since the forest is not to be missed out on.